I've created a healthier alternative to your everyday chicken nugget that even the pickiest of toddlers will enjoy! You can prep these Easy Chicken Veggie Patties in as fast as 5 minutes and cook them up in about 7. Better yet, they are so good your family may fight over them! Chicken Veggie Patties are one of my favorite hidden vegetable recipes and they are so easy to make!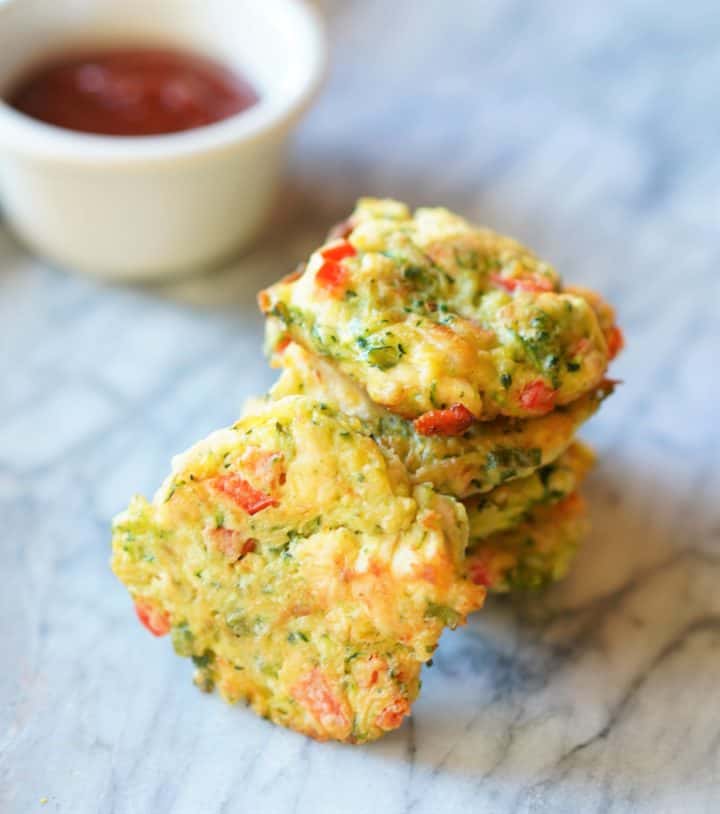 Some chicken nuggets are so processed and unhealthy! I've tried several times to make chicken nuggets taste like the nuggets most kids associate with. Depending on what you put in these, these can come pretty close! These chicken veggie patties are a homemade chicken nugget recipe with added nutrients.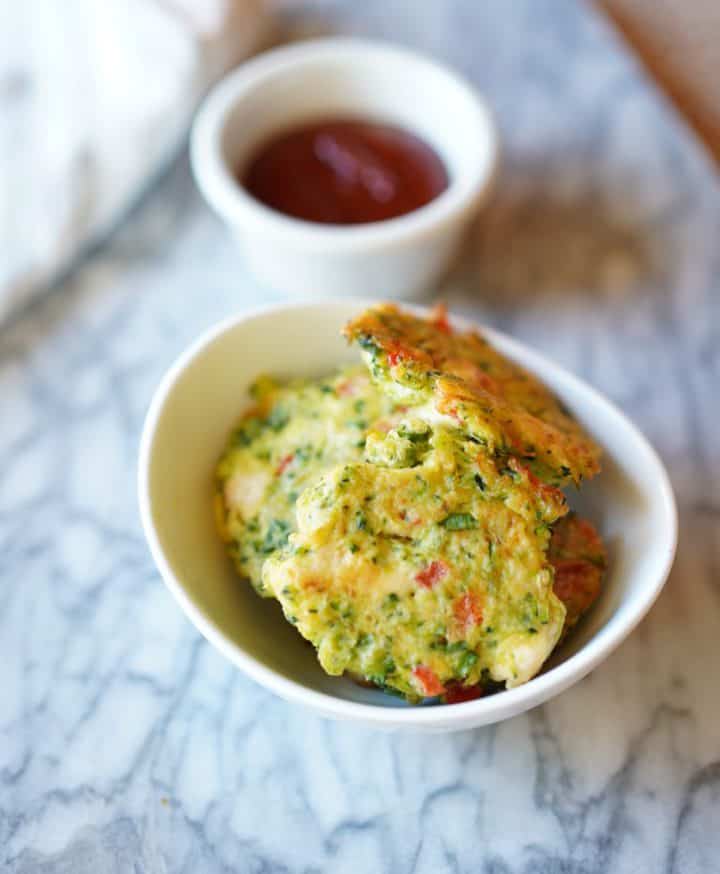 I'm well aware store-bought nuggets definitely has its time in place, but I wanted to give you a homemade option to try! Best of all, it's all great ingredients and not processed!
Why You'll Love This Recipe
Meets Texture Requests - This recipe is quite versatile. You can chop up the chicken more finely or leave it in cubes, depending on your preferences. For example, if you shred the chicken very finely, your child will associate it with more like a chicken nugget. Non picky eater? Cubes are great!
Mix and Match Vegetables - There are so many vegetables to choose from. For this recipe you can omit some veggies including the green onion, peppers, or broccoli. Zucchini is relatively tasteless, so I definitely recommend keeping that in. It also keeps the moisture in and keeps it tasty. I've also tried shredded carrots and chopped spinach to name a few.
How to Make Easy Chicken Veggie Patties - step by step
First you'll want to prep all your vegetables. Grate your zucchini and remove moisture. You can use your hands or wrap it in a cheese cloth to strain. Next you'll want to grate your broccoli and chop your bell peppers finely.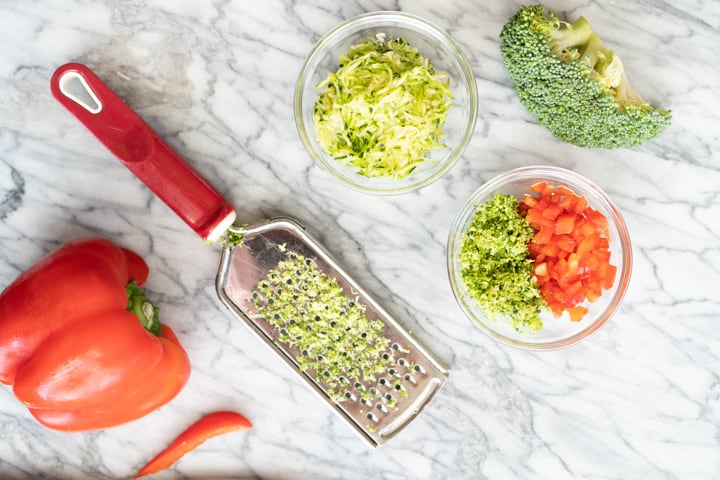 Then chop up cooked chicken, or shred depending on personal preference. You're almost there! Next, gather the rest of your ingredients. Salt and pepper, but feel free to use other seasonings like garlic salt to taste. Grab some flour and an egg.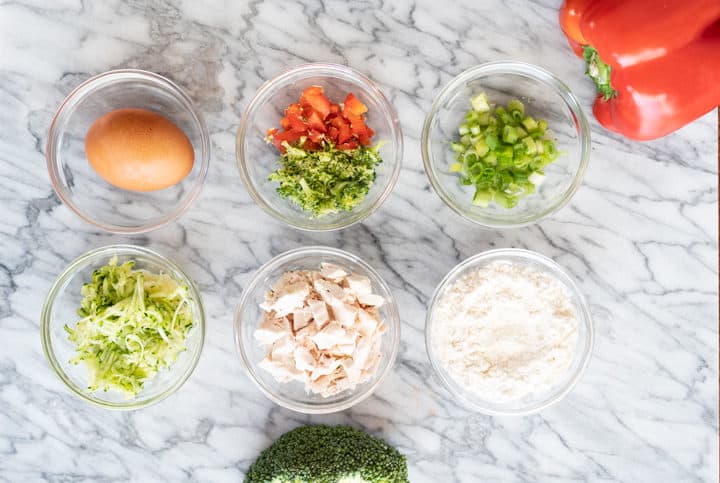 You'll then want to add all the ingredients into a medium bowl.
Mix the ingredients until well incorporated.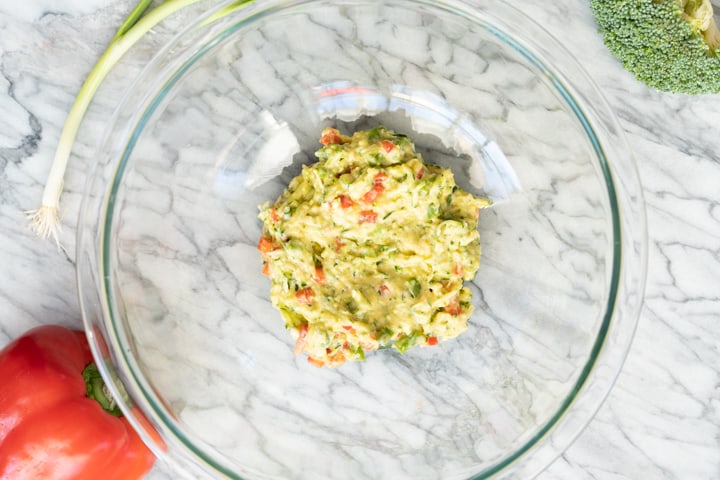 Here's a pro tip for you: Use a cookie scooper! A cookie scooper really does come in handy. Trust me it will save you time and keeps your hands cleaner.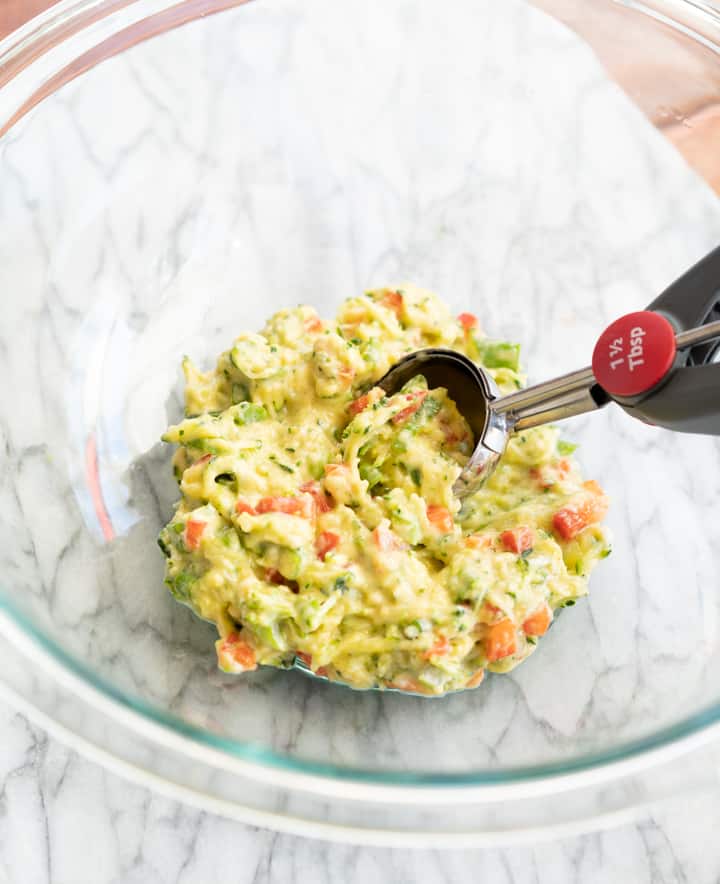 Finally, turn on your stove and add some olive oil to a skillet over medium. This isn't a deep fry, but a shallow fry.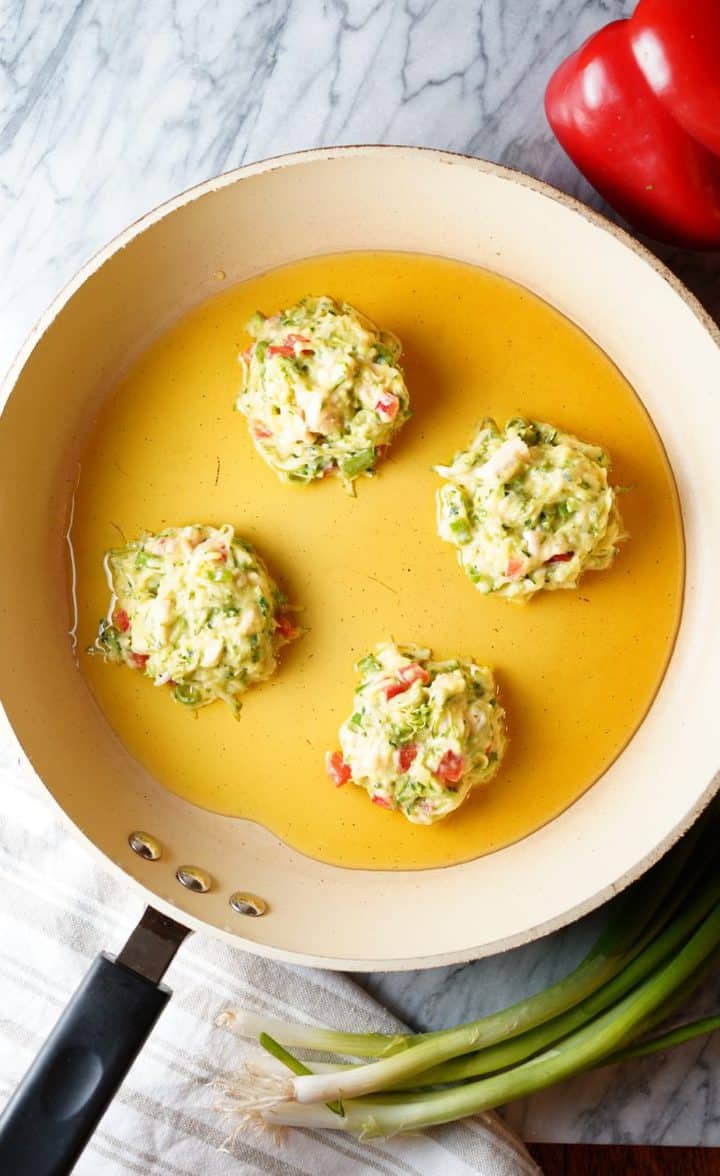 After placing the scooped mixture into the pan, use a spoon to flatten out the round patties out. You can also use the back of the cookie scoop.
Brown on both sides, until a golden brown.
Vegetable Patties for Toddlers
I promise you, your kids are going to love these, in fact the whole family will! They are great by themselves as an easy lunch, or they can be part of a larger main meal. These chicken veggie patties are a great way of sneaking in extra nutrients into little ones (and big ones!) diets.
What is in Easy Chicken Veggie Patties?
These patties are loaded with veggies, namely zucchini, broccoli, bell peppers and green onion and shredded chicken adds a hit of protein. You can easily use whatever veggies you have in your fridge in these patties - sweet corn or spinach would work really well!
Kid-friendly Easy Veggie Pattie Recipe
Toddlers can be such picky eaters, especially where texture is concerned, and these vegetable patties are a great way to get extra nutrients into them, without them even realising it! They come together so quickly and can be stored in the fridge for a couple of days.
Top tips for making Easy Chicken Veggie Patties:
Use store-bought rotisserie chicken. It will save so much time and dishes.
Don't forget to squeeze out the moisture from the zucchini after grating
A cookie scoop will save you time and keep your hands clean
Vegetable options: Thawed mixed/garden vegetables, grated carrots.
Protein options: Fried scrambled egg, extra firm tofu
FAQ for Easy Chicken Veggie Patties:
Can you freeze these?

This recipe is best fresh. There are no preservatives in the recipe and the patty tends to break down over time if frozen.

How long will it keep in the fridge?

You can happily keep them in the fridge for 3 days. Either reheat it in pan for a crispy texture or microwave it for a few seconds
Try these other easy and healthy toddler lunches!
Toddler Tomato and Chicken Rice by NetMums
Toddler Chicken Nuggets Recipe by Super Healthy Kids
If you have tried these easy chicken veggie patties, or any other recipe on my blog, then please rate it and let me know how it turned out in the comments below! For more inspiration follow us on Instagram or like us on Facebook to find more healthy and easy toddler meals.
Watch how to make it!
Note: Recipe on video is doubled and added carrots instead of green onions... did i mention versatile? I would follow the recipe for perfect results, if you're a newbie though.
Chicken Veggie Patties
This chicken veggie patties recipe is soft and juicy and super tasty. I know many of you have children who are really picky about texture this is the chicken nugget alternative for you.

Print
Pin
Ingredients
½

c.

green zucchini

one small zucchini, grated

3

broccoli florets

grated (optional)

2

extra small bell peppers

chopped finely (optional)

¼

c.

cooked chicken

chopped finely (I use rotiserrie chicken)

¼

c.

green onions

chopped (optional)

¼

c.

flour

Salt and Pepper to taste

1

egg

Olive oil for frying
Instructions
Wash and grate zucchini and dry with paper towel

Chop all vegetables and set aside

In a bowl, mix all ingredients until well incorporated

In a pan add 2-3 tbs. of olive oil on medium high heat

Using a spoon or ice cream scooper, scoop about a tablespoon of batter onto the pan for each pattie. Use a spoon to flatten the scoop into a patty form. Cook until golden brown and flip on the other side for a few minutes.

Serve with chives and sour cream if desired, or serve with a side of ketchup
Notes
Use store bought rotisserie chicken. It will save so much time and dishes.
Don't forget to squeeze out the water from the zucchini after grating
A cookie scoop will save you time and keep your hands clean
Nutrition
Calories:
407
kcal
|
Carbohydrates:
51
g
|
Protein:
28
g
|
Fat:
8
g
|
Saturated Fat:
2
g
|
Cholesterol:
208
mg
|
Sodium:
128
mg
|
Potassium:
526
mg
|
Fiber:
4
g
|
Sugar:
2
g
|
Vitamin A:
1030
IU
|
Vitamin C:
40.6
mg
|
Calcium:
83
mg
|
Iron:
5.3
mg