A bite sized twist to a classic comfort food recipe. Make these easy individual mini chicken pot pies with just four ingredients. Chicken pot pie is a comfort meal that almost everyone loves. It's not the easiest to make from scratch, but this will satiate that craving, made in less than half an hour. You make this Mini Chicken Pot Pie recipe in a muffin tin and its perfect for toddlers and adults alike. It's one of our favorite 4 ingredient meals!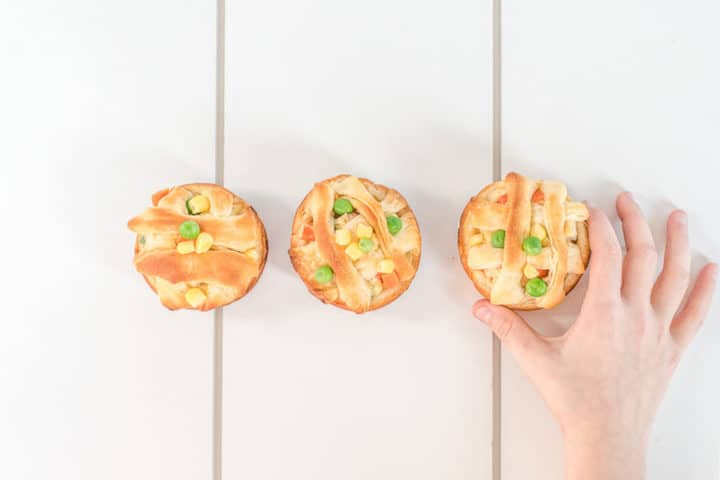 The Traditional Pie takes so long to make. Skip the puff pastry dough making and try buying store bought crescent rolls. There are even organic varieties out there! Your whole family will love this healthy chicken pot pie recipe! My husband loves traditional pies, but it's hard to make it from scratch and this is approved by him. This curbs that craving, and you won't be spending too much time in the kitchen. My kids are also big fans because it's the perfect size for tiny fingers.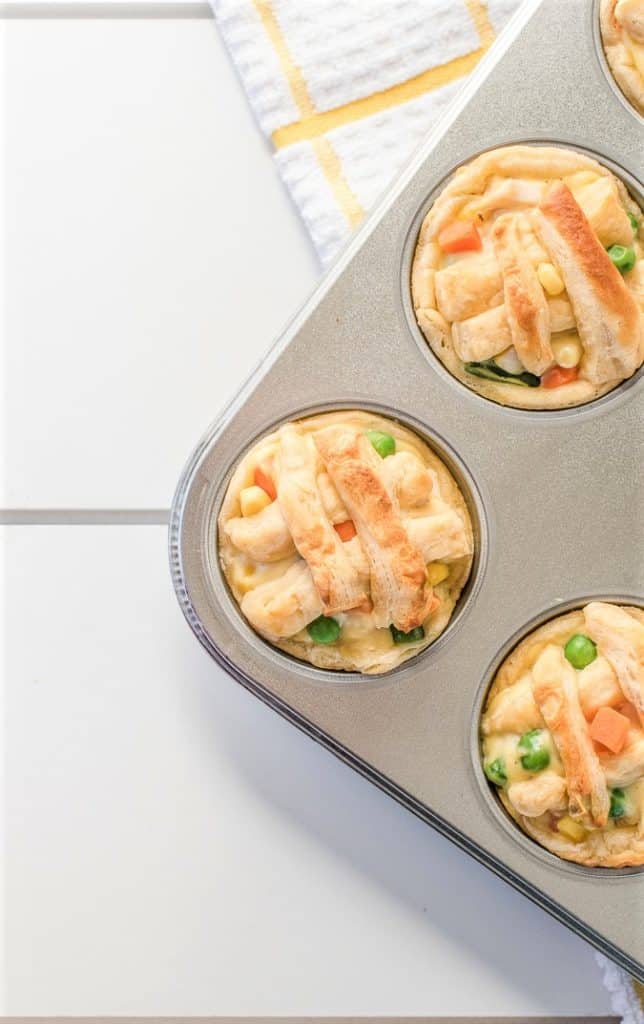 These pot pies are also great because each one comes in at under 200 calories. I always make a muffin tray full of them, and then just keep them in the fridge and reheat them when needed, so you always have something on hand. These tasty pot pies will be sure to please even the pickiest of eaters! This chicken pot pie recipe version is great for messes too! They're bite size and easy to eat.
Why You'll Love This Easy Kid Friendly Dinner Recipe
Veggie Packed - Mixed veggies are included in this recipe. It packs a big nutritional punch in one bite.

Easy to Make

- It only takes less than half and hour from start to finish! A traditional pot pie is delicious, but we don't always have the time to make them from scratch! This recipe makes it quick and easy! Store bought crescent rolls make the perfect substitute for puff pastry and a store bought rotisserie chicken cuts down on mess and means you can make twelve of these pies in 30 minutes!
Kid Friendly - Get the kids involved in the kitchen with this recipe! They'll have so much fun and are more likely to eat what they've made too.
Appetizer Friendly - These mini pies are super tasty and delicious and would also be a perfect finger food for a party or as an appetizer. You could serve a couple of them as part of a dinner meal served with veggies and a potato side.
How to Make Healthy Mini Chicken Pot Pies
Preheat oven to 375F
In a bowl, mix chicken, cream of chicken, chicken seasoning, salt and pepper
Use a glass or cookie cutter to mold out circles of crescent dough
Grease a muffin tin and insert circle mold and add the chicken mixture inside
Cover with strips of left over dough
Bake for 15-20 minutes
Step by Step Instructions
First, preheat your oven to 375F. Then prep your ingredients. There won't be much to the preparation but cubing store bought rotisserie chicken breast and opening the can of cream of chicken! This is a great way to use up cooked chicken from the night before.
Then in a medium bowl, mix chicken, cream of chicken soup, mixed vegetables and sprinkle a little chicken seasoning or salt and pepper. I usually use a classic mixed vegetables package that includes green beans. Depending on your taste buds, you can also add some garlic powder and onions and celery. Below, you'll find the most simplistic recipe for this. Set aside.
Next, use a glass or cookie cutter and carve out circles of crescent rolls dough. You want to make sure the circumference is a little bigger than your muffin tin.
Then you'll want to grease your muffin tin with cooking spray and carefully place dough in each circle muffin cups. It should be just about at the rim of the tin. Then you'll want to add the chicken mixture into each circle.
Finally, using the leftover crescent dough, and cut strips.
Put these strips on top of the chicken mixture and make a weaving pattern or simply just add a few horizontally on top.
Bake for about 20 minutes in the muffin pan, check at 15 minutes for desired brownness. It should be golden brown.
Ingredients For Mini Chicken Pot Pies Recipe
Crescent dough - you'll find this in a traditional variety and also organic. It's in the refrigerated section and is dough ready to be baked in the oven. You may use refrigerated biscuit dough as well. Just follow the directions on the tube.
Rotisserie Chicken - cooked left over rotisserie chicken is great for this recipe because it's already seasoned. You may also boil chicken breast, season it, and then cube it.
Cream of Chicken - this too comes conveniently in a can. It's made of chicken stock, milk, and a few seasonings.
Mixed Vegetables - you can find this in the frozen section at the grocery store. Frozen vegetables have plenty of nutritional value.
Cook Tips 4 ingredient Mini Chicken Pot Pies
Use rotisserie chicken that's seasoned the taste you want the pot pie to taste. If you use a barbecue flavored rotisserie chicken, you're going to have a bbq flavored pot pie! Although most are quite mild, you may be able to get away with it. You can always make your own boiled seasoned chicken and cube it up.
You can use corn or just carrots for those who have picky eaters who are selective with vegetables.
I used frozen vegetables for ease, but if you have fresh you can use those!
You may use left over turkey as well in lieu of the chicken
Make sure you thaw your mixed vegetables. You can defrost it in the refrigerator or pop it in the microwave and hit defrost. If you don't the pie will be a little too moist.
You may forgo the strips of dough on the top if desired
Check your pies frequently. It cooks quickly, and it can get too brown.
FAQ:
Can you freeze these?

This recipe is best fresh. There are no preservatives in the recipe and the patty tends to break down over time if frozen.

How long will it keep in the fridge?

You can happily keep them in the fridge for 3 days. Either reheat it in pan for a crispy texture or microwave it for a few seconds

What can I use in place of cream of chicken?

I've used cream of mushroom before, but do enjoy the cream of chicken much more.

Can I make this in a regular sized pie plate?

Yes you can make it as a traditional pot pie. Just use a larger pie plate and make a bigger dough base instead of mini ones.
Be sure to try these other easy chicken recipes for toddlers!
One Pot Cheesy Broccoli Rice and Chicken
'No Work' Baked Chicken by The Seasoned Mom
Kid-Friendly Cheddar Crusted Baked Chicken Strips by A Sweet Pea Chef
Tried this Mini Chicken Pot Pie recipe and love it? Leave me a comment and rating below! For more inspiration follow us on Instagram Or like us on Facebook
Watch How to Make It
4 Ingredient Mini Chicken Pot Pies Recipe
Bite Sized Chicken Pot Pies made in a fraction of the time it takes to make traditional pot pie!
Print
Pin
Ingredients
Crescent dough – Store bought

1

c.

cooked chopped cooked chicken

¾

c.

canned cream of chicken

thawed garden vegetables

chicken seasoning or salt and pepper

optional
Instructions
In a bowl, mix chicken, cream of chicken and sprinkle a little chicken seasoning or salt and pepper. Set aside

Using a glass or cookie cutter, carve out circles of crescent dough

Grease a muffin tin with cooking spray and carefully place dough in each circle

Add chicken mixture into each circle

Using the leftover dough, cut strips and place it on top as shown in video

Bake for about 20 minutes, check at 15 minutes for desired browness
Notes
Pro Tip: Don't forget to use salt and pepper seasoned rotisserie chicken or a desired flavor. If you use teriyaki flavored chicken your pies will taste like teriyaki chicken! 
Nutritional values are based on one pie
Nutrition
Calories:
197
kcal
|
Carbohydrates:
18
g
|
Protein:
7
g
|
Fat:
11
g
|
Saturated Fat:
4
g
|
Cholesterol:
15
mg
|
Sodium:
546
mg
|
Potassium:
70
mg
|
Sugar:
4
g
|
Vitamin A:
460
IU
|
Vitamin C:
0.9
mg
|
Calcium:
7
mg
|
Iron:
1
mg