Teaching kids math can be frustrating until you learn to speak their language especially in early childhood. One thing that works great for teaching your children is food. Try these simple math activities at home. I love making learning like educational games for younger children. Below you'll find some math activities for preschoolers including free printables.
Fun Things to Teach In the Kitchen
Food fascinates kids while also satisfying their needs. You can use food as a teaching tool that can take the stress of learning math away from your child making math fun and engaging. Have your child join you in the kitchen. It makes for a fun activity on a rainy day and any day! For older kids, cooking is a great opportunity to practice measuring skills and work on learning fractions in a playful way. Cooking is one of my favorite math activities for kids. They have fun when I play a number game, with them. Even asking them to find numbers and count them is fun for them.
Math Activities for Preschoolers
Starting your child off young helping in the kitchen can help them pick up on math concepts much younger and take away the fear and stress that comes from learning fractions later in life because they have a memory of how to work with fractions in a physically connected way.
Encourage your child to help you shop for food in the grocery store, or online shopping. Make it a simple game to improve math skills. Best of all, the kids love helping parents out and they have no idea their learning math at home.
At Home Math Activities
Fun math is just that, fun! Have them help you find prices and say how much each item is while shopping to help them learn about money in a fun and engaging way that keeps them out of trouble in the grocery store. This is for older kiddos, but you can give them a calculator to help you track how much you are spending to help them learn how to use the handy math tool. You can also make up a counting game which includes pretend play as well.
If you have older children use a sheet of paper and do addition and subtraction problems. Don't forget to do math games and make it a counting activity.
Prepare Meals With Kids
Put together a tray with a wide variety of different colored fruits and vegetables. Have your child sort bite sized pieces by color to work on colors in a fun and tasty way. Use this as an opportunity to convince your child to try a few bits of new fruits and veggies while munching on personal favorites mixed in. These simple activities are great for getting kids to work hands on and exciting them about healthy foods.
Have your child help divide up snacks for the family. Splitting baby carrots, celery sticks and other small snacks between several plates to give everyone the same amount is a great way to work on counting and beginning to understand division at a young age. This will come in handy when they are older and have connections to what they can use division for and a hands on experience base to go back to.
Food can be perfect for playing with despite what most parents tell kids at the table. Have your child help spread peanut butter on toast and use the tip of a butter knife or spreader to draw numbers and dots or lines for each number into the peanut butter for a fun fine motor activity that helps them learn to write numbers and can cheer up the breakfast table. Something this simple can improve their number recognition and teach math. Preschoolers can practice counting and learn preschool math.
Have your child help you use cookie cutters to make shapes out of food while cooking. This can add a fun twist to meals and help your child become familiar with the shapes as you cut and create designs with your shapes. Charcuterie boards are popular and a great way to entice young children to eat when you want them to.
This activity is a great way to get their help in building this perfect snack or lunch. In other words, it also helps children develop their independence skills. Above all, have fun!
Math Activities for Preschoolers
Need more math activities at home? You can also download these Kitchen Activities Worksheets if you'd like to do something with paper, for instance. It includes so many fun activities like this tracing worksheet.
It also includes counting and writing numbers in this worksheet. They can use a different colored pencil or crayon to keep track of each item. Afterwards, they can write the corresponding number on the line next to the item.
Next up is sorting and understanding new words like tools and ingredients.
Next up is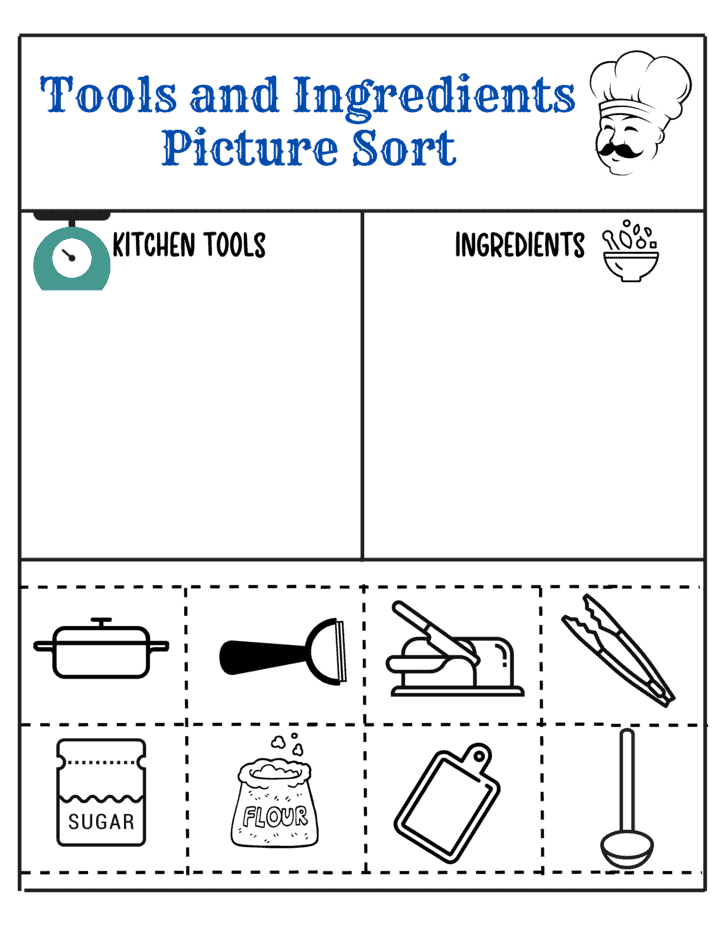 Furthermore, I've also included a size worksheets. It's great to teach the difference between small, medium and large.
You may not realize it, but coloring is a great way to increase children's handwriting stamina. I like to teach them to color from top to bottom so they can get used to writing letters properly.
Last but not least, learning about symmetry is also a great activity.
I really do hope you enjoy these worksheets! I'm not a preschool teacher with lesson plans, but it's a great way to fill up a morning with the kids at home. Why not improve their early math skills with games and activities!?
Looking for more kids activities? Try these:
Fine motor skills development activity
I would love it if you comment and rate this post so I can know if this is something you'd like me to keep doing. Tried this activity and want to see more? Leave me a comment and rating below. Thanks in advance! For more inspiration follow us on Instagram Or like us on Facebook