Cooking at home is a little different these days, especially if you have children. I'm always looking for busy activities for the kids and these kindergarten worksheets does the job! Kids tracing is great for development, it also buys me time to cook meals. I've included some free printable preschool worksheets below.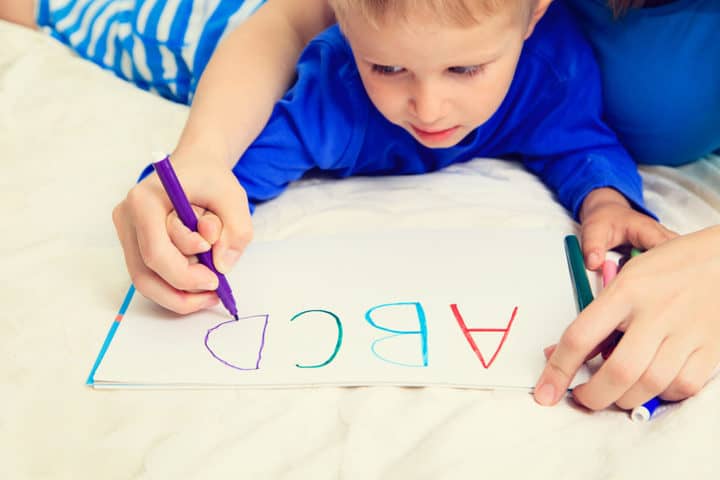 Kids are incredible. Their little minds develop so much more quickly than ours do. In fact, as soon as they can observe the world around them, children quickly get to work at trying to understand and become a part of the world around them. Studies show that children may even begin to attempt written communication at only 2 years old.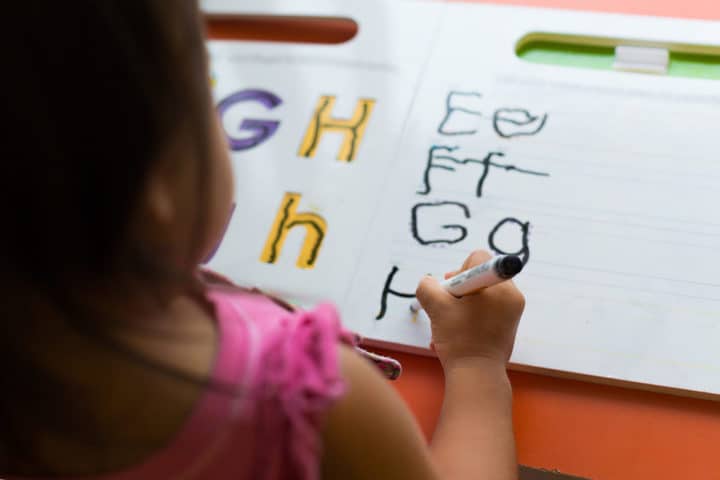 Because their version is more imaginative, and tends to look different than ours, adults may miss these cues. While your child may not be writing cute, sloppy, backwards letters at age 2, you may notice them begin to take an interest in drawing or doodling. This is their way of imitating the written word.
Start Early
While kids have taken an interest at age 2, writing should be something that is regularly taught and practiced by age 3-4. Even at this tender, young age, the literacy education that children are exposed to will set the tone for their entire lifetime of literacy. Early writing has been shown to indicate a child's future reading skills. Learning to write is comprised of a few different skills and concepts, including learning the physical rules of writing, such as starting at the left and going right, or starting at the top of the page and moving downward.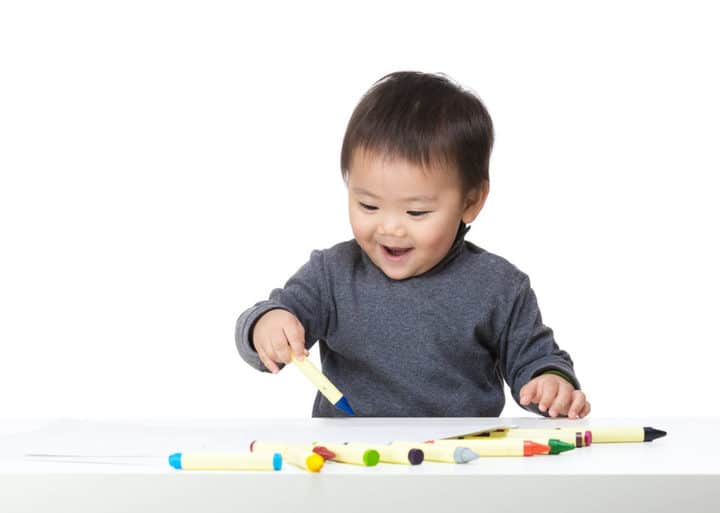 Then there is the lesson of mechanics in which a child learns how to make the actual letters. And lastly, the child must learn how the letters sound, and how to assemble them into meaningful words and eventually sentences. These are all important skills for reading, and sharpening them at an early age sets your child up for success in the future.
Where To Begin
As a parent, this can seem like a huge, scary topic, and you may be wondering how to attack it. The pressure to provide our children with all of the necessary skillsets for the future can be overwhelming, especially when it seems like they are uninterested. First of all, remember that your child is actively seeking to understand the world around them. They want to be just like you! It is important to be mindful of the developmental stages your child is in, and to know how to identify cues. From there, you can find age appropriate ways to educate your child about just about anything. Writing is no exception! These preschool letter worksheets are great for this!
In earlier stages of learning, you can begin by incorporating writing and drawing into playtime. If you are playing pretend restaurant, you can have your child help you design menus. By playing school, you can have a chalkboard available for your child to scribble on. Incorporate things like nametags into playtime, and invite your child to "write their name" on them. Even though the shapes that you see on your child's pages may not look like real words, the act of practicing is already helping them to learn!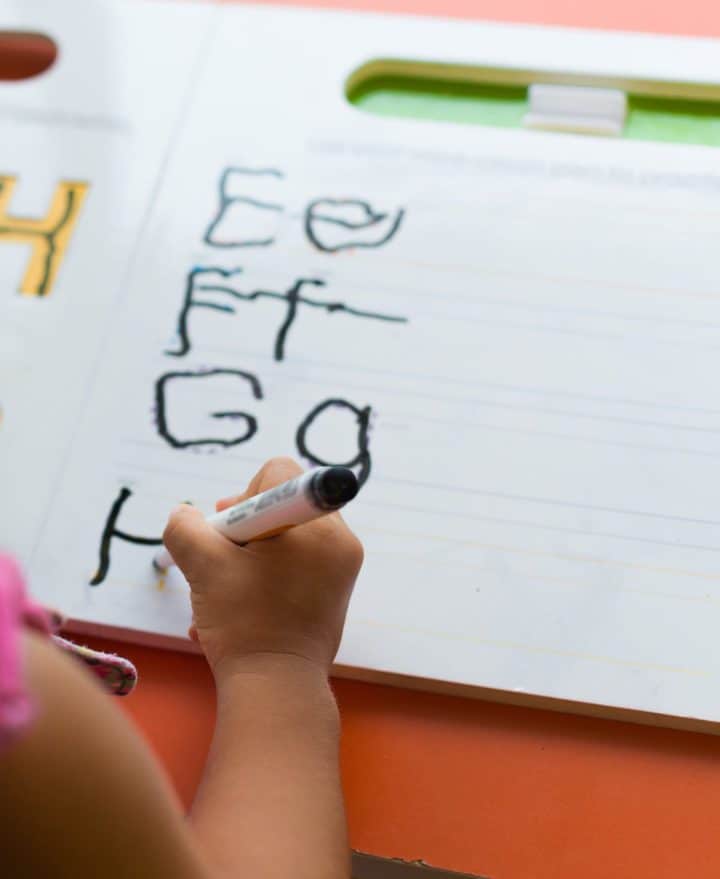 Writing Real Letters
Afterwards, once your child has moved from scribbles and doodles to making shapes that resemble letters, it is officially time to teach them real letters. By this age, it is likely that your child knows their ABCs, so think of this step as bringing those letters to life. You want to teach your child how to write the letters of the alphabet, but you also want them to get to know each letter personally. For example, when teaching your child how to form the letter 'a' sound the letter out for them, and give them an example of a word that begins with 'a.' You can start with uppercase letters and then move on to lowercase letters by tracing the line.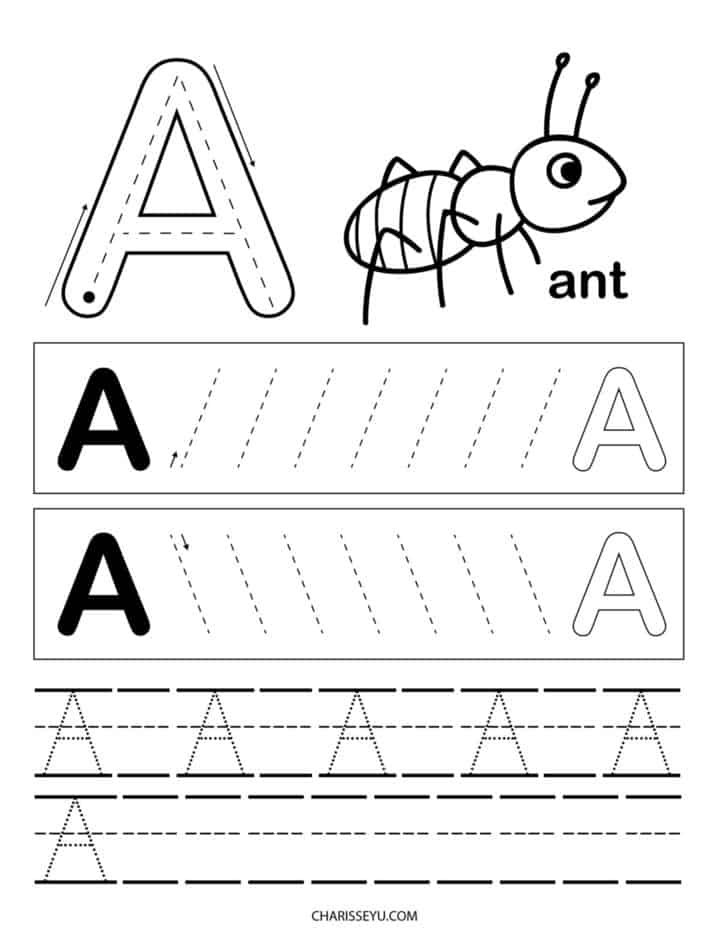 I have provided printable worksheets to guide you and your child on the mechanics of forming letters. Each one comes with an example word, and a picture. This helps to form the connection in your child's mind between 'a,' 'ah,' and 'ant.' By taking this approach and connecting letters, sounds, and words that they know all from the start, you not only teach your child to memorize how to physically write the letter and how it sounds. Tracing letter H for example corresponds with hand, in which they can color page.
You are also teaching them the skill of connecting letters to words. This skill will eventually evolve into the same skill that they will use to sound out words with which they are unfamiliar, after they have begun reading. It is amazing that such a big and important life skill can be planted from such a small seed this early on in your child's life. As a parent, it feels so good to know that you are setting your child up for success later on!
Full Circle Learning
In addition, it is important to make this type of learning a part of your everyday routine with your child, but consistency does not mean that it has to be boring. The worksheets below come with a little graphic on each one. Once your child has written their letters on the provided lines, offer crayons so that they can color the picture. Research shows that engaging in multisensory activities helps kids to learn.
Other ways to engage the senses in letter learning include:
Offer snacks that begin with your letter of the day
Make mystery smell jars! Fill a jar with spices that your child is familiar with, coffee grounds, toothpaste, or other strongly scented items. Wrap the jar in paper and label it with the first letter of the contents. Let your child look at the letter, smell what is inside, and take a guess at what they think it is.
Make it a music day! B is for bells; G is for guitar; V is for violin; P is for piano. Use whatever you have available to you. You don't have to represent every single letter every single time.
Make 3D letters. Use objects that begin with that letter. For example, let your kid form the letter 'p' out of cooked pasta noodles, or go outside and draw a 'd' in the dirt.
Therefore, by giving your child an early start at writing, you are setting them up for a lifetime of success with reading, writing, and critical thinking. It is never to early to help your child fall in love with language. As parents, the pressure is on, and it can be stressful, but rest assured that by identifying these stages of learning, and by offering your child opportunities to expand their knowledge, learning to write can be fun and exciting!
Free Preschool Worksheets
Click on the link to access the printable pre writing worksheets. They are free worksheets. It includes uppercase letters.
Preschool Worksheets Free Printables
Looking for more kids activity ideas? Check out these:
Math Activities For Preschoolers
Fine Motor Skills Activities and Worksheet
Tried these work sheets and love it? Please leave me a comment and rating below. If you'd like more math worksheets, uppercase and lowercase worksheets, alphabet worksheets, sight words, number coloring, or word search. I'd love to know too! Tag me on social media. For more inspiration follow us on Instagram Or like us on Facebook