Jazz up your parties with an easy cheese board filled with fruit and snacks. Best of all you can make this easy cheese board in minutes. It's perfect for entertaining and backyard barbecues. They're beautiful, impressive and requires no cooking.
Why you'll love this cheese board idea
One stop shop - I bought all the ingredients from my local Trader Joes. That said, you can find similar items at your local grocery store! I'd opt for the largest store around for more choices.
Variety, variety, variety - I personally love variety when I eat and so does my family! You can offer almost anything you want when creating your fruit and cheese platter.
No cooking required- I'ts hard enough getting your home ready for a get together plus preparing meals. This makes an easy appetizer for a crowd.
I'm not a charcuterie board expert by any means, but I do know what I like and I love to put things together.
How to assemble a cheese board
First off, lets start with the basics. The board. Lots of folks like to use wood, but I personally love marble. I use this $20 pastry board.  Here's why:
It's easy to clean and dries fast
Keeps food cooler (a huge tip how I do this below)
Fresh Fruit
Next head to the store to pick up the goods. I try to buy everything from one store to make my life easy. First, I look around to see what fresh fruit is available. The fresh fruit in this board are blueberries, strawberries and apricots.
Cheese
Next, I choose my cheeses. For those with more adventurous palates, I'd grab a mix of different textured cheeses (soft, hard, and crumbly). I usually pick 3 types of cheeses. This will please all different types of tastes and makes it visually appealing. For this party however, my guests consisted of 6 adults and 7 kids(under the age of 6) as my guests. As much as I love some stinky cheeses, I opted out and chose blueberry goat cheese, apricot Stilton cheese, and dill Havarti. That said, start early, exposing kids to all different types of foods young helps be less picky!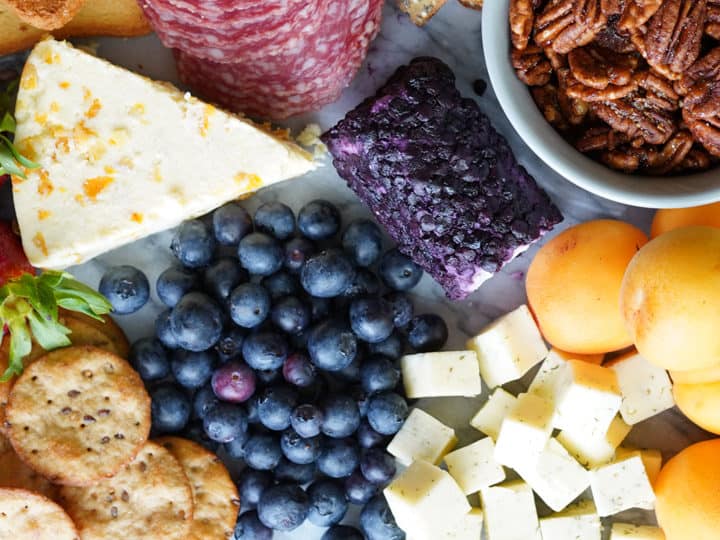 Dried Goods
Finally to complete my board I pick my dried items. For this board I chose cheese cheddar sticks, brioche toasts, figs and olive crisps, and pita bite crackers. I also grabbed some candied pecans and mandarins.
Meats
Some good options are salami and prosciutto. The candied pecans paired with salami is amazing!
Cook's Tips
Choose food your guests or family will enjoy. As much as I love the look of fancy meats and cheeses, I find them untouched at the end of the day. After all, why choose something no one will eat? I'ts super important to gauge your audience when serving these types of plates in my opinion.
Use a flat ice pack under the cheese board to keep food cool and fresh
FAQ
What fruits are good with cheese?

Raspberry and Cream Cheese
Apple and Cheddar
Watermelon and Feta
Peach and Burrata
Pear and Brie

What meats goes with a cheeseboard?

Add some cured meats with the cheeseboard if you like. My favorites are salami and prosciutto
Try these other best appetizer recipes
Fruit and Cheese Board - Modern Honey
Cheese Board Ideas - Ain't To Proud to Meg
If you have tried this easy cheese board recipe, or any other recipe on my blog, then please rate it and let me know how it turned out in th comments below.  For more inspiration follow us on Instagram Or like us on Facebook
Easy Cheese Board
Shopping list of what to buy for your next beautiful cheese board
Print
Rate
Ingredients
Fresh Fruit
1

cup

Strawberries

½

cup

Blueberries

6

Apricot
Cheeses
1

Blueberry Goat Cheese

1

Havarti Cheese With Dill

1

White Stilton With Apricots
Dried goods
¼

cup

Mandarin Dried Oranges

1

cup

Candied Pecans

1

box

Cheese Cheddar Sticks

6

pieces

Brioche Toasts

12

pieces

Figs and Olive Crisps

12

pieces

Raisin Rosemary Crisps

12

pieces

Pita Bite Crackers
Optional
½

package

Uncured Applewood Smoked Salami

½

package

Sliced Prosciutto

¼

cup

Turkish Figs
Notes
The measurements of ingredients are estimated. Please use your own judgement when arranging your board. It really all depends on how large your board i and also how large the items you choose are.
Nutrition
Calories:
212
kcal
|
Carbohydrates:
21
g
|
Protein:
4
g
|
Fat:
13
g
|
Saturated Fat:
2
g
|
Cholesterol:
10
mg
|
Sodium:
350
mg
|
Potassium:
186
mg
|
Fiber:
2
g
|
Sugar:
14
g
|
Vitamin A:
740
IU
|
Vitamin C:
21
mg
|
Calcium:
34
mg
|
Iron:
0.9
mg